Warning after Cornwall canoe river death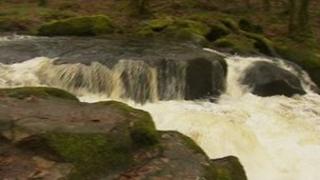 Canoeing experts are warning of the dangers of solo expeditions following the death of a man in Cornwall on New Year's Day.
A 49-year-old man, who has not been named, died after his canoe overturned at Golitha Falls near Liskeard.
Police said they believed he was canoeing alone and not as part of a group.
David Wells, of the Port of Plymouth Canoeing Association, described the incident as "a terrible tragedy".
He said: "It is the time of year for white water and if you have experience and confidence there is no reason not to go on your own.
"But as a club we recommend three people so one person can stay with the casualty and another can get help."
Mr Wells added that many experienced canoeists would have been out.
"The rivers are at their best for white water sport at this time of year," he said.
"All canoeists and kayakers know the risks but it is no less upsetting and shocking when someone is hurt on the rare occasion something goes badly wrong."
Golitha Falls, a nature reserve on the edge of the moor, is "an area of woodland occupying a steep-sided valley gorge, with the River Fowey flowing through it in a series of spectacular cascades", according to Natural England.
A police spokesman said they were called to the scene at Draynes, near Liskeard, by reports a canoeist had fallen out of his canoe and was reportedly clinging to a rock.
The man was on holiday with his family.
He was taken by helicopter to Derriford Hospital in Plymouth where he was pronounced dead.