Tribute to 'brilliant' canoeist Dave Smith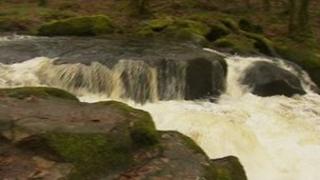 Tributes have been paid to a canoeist who died in Cornwall on New Year's Day.
Qualified instructor Dave Smith, 49, got into trouble when he was canoeing solo at Golitha Falls near Liskeard.
Mr Smith, who had been on holiday with his family from Stourbridge, was taken by helicopter to Derriford Hospital in Plymouth where he was pronounced dead.
Eric Buchan, chairman of Wyre Forest Canoe Club in Worcestershire, said Mr Smith, who had been a member for 16 years, was a "brilliant" canoeist.
Mr Smith was one of two club members who died over New Year on private trips.
Steve Wall, 48, died in a separate canoeing accident in the River Teme near Ludlow.
'Absolute shock'
Mr Smith fell out of his canoe as he navigated his way down a steep-sided gorge.
He was winched up by a search and rescue helicopter and flown to hospital but could not be revived.
Mr Buchan said: "It was an absolute shock.
"He was such a nice bloke, I can't believe he is not with us any more.
"Dave was a real character. I don't know anyone who did not get on with him."
He said Mr Smith was an experienced and nimble canoeist.
"He was so good, I can't believe this has happened."
There were messages of condolence on the club's website where both men were remembered with fondness.