Cornwall castle hosted crucial meeting before Falklands War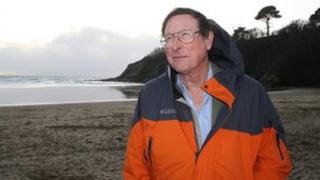 A new BBC TV documentary will highlight a key event at a castle in Cornwall in the lead up to the Falklands War.
A crucial meeting was held at Caerhays Castle to discuss the future of several ships - one of which played a key role in the campaign to liberate the isles.
This year marks the 30th anniversary of the UK's conflict with Argentina.
Sir Max Hastings, who will present the BBC Two programme, was the first journalist into Port Stanley following the British troops' victory.
Sir John Nott, who was the Secretary of State for Defence at the time of the conflict, as well as the MP for St Ives, had decided to sell off several ships.
One was the carrier HMS Invincible, which was later to be at the heart of the Royal Navy's role in the Falklands.
Invincible's Sea Harrier jets played a major part in recapturing the islands after the 1982 invasion by Argentina.
During the war Prince Andrew served on board Invincible as a helicopter pilot.
But just before the conflict, the sale of the aircraft carrier was proposed as part of a money-saving exercise which was opposed by many powerful people and organisations.
The Australian government had said it would buy Invincible for about £175m.
The First Sea Lord Admiral Sir Henry Leach was one of those voices against the sale. He had argued many times for the carrier to be retained.
In his book which describes the times leading up to the Falklands War, Sir John wrote: "Just as I was departing for my constituency one Thursday afternoon in November 1981, Henry Leach asked to see me about Invincible."
There was, he said: "Nothing more to discuss."
But he felt it necessary to meet the First Sea Lord and the crucial get-together was held at Caerhays Castle.
Sir Max said: "There ensued a colossal row between Nott and the First Sea Lord who argued passionately that [prime minister] Thatcher was wrong to sell Invincible."
The minister stuck to his guns.
He recalled: "Henry trundled out all the same old arguments that had been advanced in favour of the carrier ever since the Healey review in the mid-1960s... I confirmed to Henry Leach in the morning that I could not change my decision on Invincible."
The programme, which is still in production, is expected to air on BBC Two in April.