Chinese bids boost Cornwall porcelain sale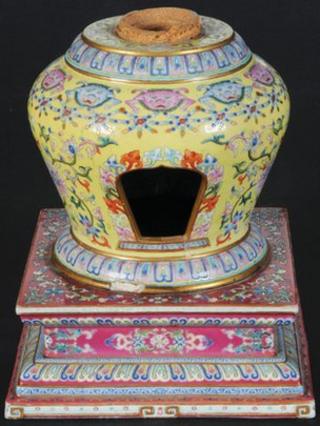 A damaged piece of Chinese porcelain has been auctioned for more than 40 times its original estimated value.
The altarpiece had a list price of £400 to £600 but, helped along by bids from mainland China, sold for £25,000.
Auctioneer David Lay, who sold the piece on behalf of a customer from Cornwall, admitted his firm got the value "spectacularly wrong".
But he added the previous owner of the late 18th Century piece was "absolutely delighted".
Mr Lay spotted the 22cm high altarpiece, which had been turned into a lamp, on a coffee table at the customer's home.
An expert said that the damage would bring the price down so the auction house gave it a lower estimated price.
Mr Lay said: "Nine times out of 10 we come pretty close with our price estimates, but I am delighted to confess that we got this one spectacularly wrong."
The piece, decorated with lotus flowers, was eventually sold to a specialist dealer in London.
Mr Lay said: "I started the bidding at £500 and it went up and up and up.
"To my right was a computer screen and I could see these Chinese bidders fighting away and the price soaring."
He called the owner after the sale.
"She was having a home hairdo at the time, so I had to hang on until I could talk to her, but of course she was very pleased."