Photo gives 'new hope' for native Scilly bee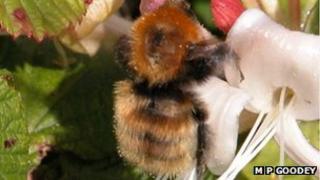 A photo that has recently come to light of a rare bee native to the Scilly Isles has given "new hope" that the creatures still inhabit the islands.
Wildlife experts had raised concerns over the future of the Scilly bee after a lack of recorded sightings.
The bee is under threat due to dwindling heathland but a volunteer-led project hopes to raise its profile.
Jaclyn Pearson, from Isles of Scilly Wildlife Trust, said: "We need to give this more time before we give up."
Ms Pearson said: "We are worried but experts say when their numbers are so low it can take a while to record them again.
"We haven't looked at the eastern isles for example yet and we have now got a record of a photograph from 2009 on St Martins.
"We had a volunteer over who was studying the red barbed ant and in one of the shots there is a female Scilly bee."
'Decline in numbers'
Ms Pearson said when they saw the photograph they had thought "great, we've got one record at least".
The Scilly bee is a sub-species of the Moss Carder bee.
Primarily a coastal species, this particular, now somewhat uncommon bee prefers open grasslands and moorland close to the coast.
Hilary Frudd, a volunteer for the The Big Scilly Bee Search project, which is trying to encourage people to actively look for the creature in order to get confirmed sightings said she wanted visitors to the islands to "continue to keep their eyes open".
"The more people that go out and look for this bee, the more chances we have of finding it.
"People who live here and holiday here are engaged and proud about the Scilly bee because it is a unique species to the islands," she added.
Stuart Roberts, chairman of the Bees, Wasps & Ants Recording Society, said changes in the natural environment were the most likely cause for the decline in numbers.
"They really do need a plentiful supply of forage, which is mainly flowers here, for providing nectar for themselves and pollen for their offspring.
"Many bumblebees have really suffered as a result of changing agricultural practice."
The Scilly Bee Project is expected to continue into 2012.