Travellers sites in Devon and Cornwall get £3m funding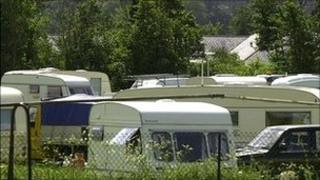 More traveller sites are to be set up in the South West.
It comes after UK councils were invited to bid for their share of £60m of government funding overseen by the Homes and Communities Agency (HCA).
The aim is to assist traveller communities with better facilities and reduce unauthorised sites.
The money awarded includes £1.2m for 30 pitches across Cornwall, £1.1m for 15 pitches in Teignbridge, and £790,000 for 15 pitches in Plymouth.
Plymouth City Council said the money would "reduce unauthorised encampments" and "save thousands" in costs.
Last year there were 40 unauthorised encampments in the city and the authority said it cost about £300,000 a year to clean up after people who had illegally set up home.
'Financial benefits'
Councillor Ted Fry, cabinet member for planning, strategic housing and economic development, said: "If we can meet the needs of Gypsies and travellers in a planned way, we can tackle these rising costs."
There are currently about 20 unauthorised sites around Cornwall.
Mark Kaczmarek, Cornwall Council's cabinet member for housing and planning, said the council was "committed to ensuring that members of the travelling communities have the same rights and responsibilities as every other person".
Mr Kaczmarek said the council was keen to "recognise and protect the traditional way of life of the travelling communities while respecting the interests of the settled community".
Communities minister Andrew Stunell said: "New authorised sites, with the support of local communities, will be treated on an equal footing as new bricks-and-mortar homes, with councils getting powerful financial benefits for building authorised sites where they are needed."