Work starts on repairing tidal defences in Truro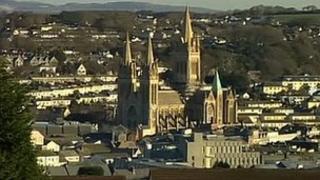 Tidal defences in Truro are being replaced and strengthened as part of a £3m project to protect more than 200 properties from flooding.
The project, which starts on Monday, has been funded by Cornwall Council and the Environment Agency.
Work includes a new wall being built at Lighterage Quay, and low flood banks being raised in the city.
The work is expected to be completed by early summer, an agency spokesperson said.
Gordon Trapmore, from the agency, said: "The centre of Truro is at risk of flooding both from the high tides and heavy rain.
"This scheme will ensure that we continue to provide protection for the city, and it can also be adapted, in the future, to deal with the effects of climate change.
"The scheme will continue to protect 31 residential and 181 commercial properties in Truro which are at risk from flooding."