Homeless shelter in Cornwall closes after 'trouble'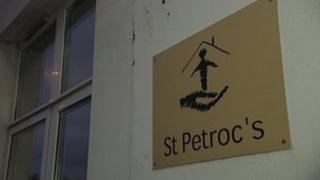 A homeless shelter in Cornwall has been forced to close for the weekend after trouble involving a minority of clients, managers say.
The St Petroc's Society described the move at its centre in Truro as "unprecedented".
Society chief executive Steve Ellis said that the action had been taken because the organisation had to act to protect other service users and staff.
He added that alternative accommodation had been found for some clients.
Mr Ellis said: "If you have people who end up affecting others and the staff, it becomes really difficult to provide this type of service."
One client, Mark, told BBC News that the move was a "total over-reaction".
He said: "It was merely shouting and general disorder, which is to be expected in a homeless hostel."
The society said the shelter was due to reopen on Monday.