RNAS Culdrose Air Day postponed by runway repairs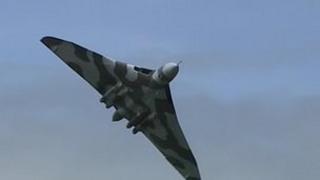 One of Cornwall's major public events has been cancelled for 2012.
RNAS Culdrose's Air Day, which is usually held in July, is the only opportunity for the public to experience a working military Naval Air Station
A spokesman for Culdrose, which is based in Helston, said the runway was being resurfaced this summer.
Culdrose also said too many staff would be on frontline operations, as well as on duty at the London Olympics.
The base's Commanding Officer, Capt Willie Entwisle said that the popular event would return next year.
"Air Day is a very important event in the Culdrose calendar, therefore the decision has involved much deliberation.
"We appreciate that many will be disappointed with this news. My team has already started working towards developing an Air Day for the summer of 2013."