Homeless shelter in Cornwall to reopen after 'trouble'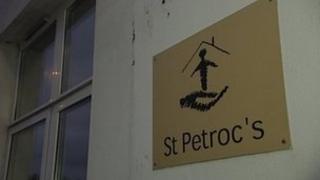 A homeless shelter in Cornwall is expected to reopen after it was closed at the weekend because of trouble involving a minority of clients.
Police were called to St Petroc's in Truro on Friday after staff reported feeling threatened.
The shelter was closed for two evenings to show it did not stand for people behaving badly, chief executive Steve Ellis said.
The centre is expected to reopen on Monday evening.
The St Petroc's Society described the closure as "unprecedented".
'Escalate into something'
Mr Ellis said: "The vast majority of people who access the service are wonderfully well behaved.
"They are extremely grateful to have somewhere to sleep and then we can start talking about how we can get them off the street."
Mr Ellis added that the incident on Friday involved several people who had been drinking alcohol.
He said: "The staff felt this was going to escalate into something else, so they called the police and they moved them on.
"We stayed open Friday night and we had discussions with all of those people who have utilised the service."
Mr Ellis added: "By and large they were all in agreement that we needed to do something to show we wouldn't be prepared to put up with people behaving badly."
The St Petroc's Society was formed in 1986 offering support to homeless people in Cornwall.