London 2012: 'Help needed' for Cornwall torch relay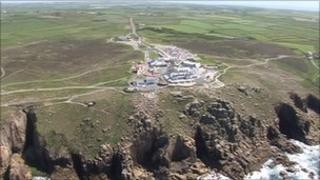 People across Cornwall are being invited to get involved in preparations for the Olympic Torch Relay in May.
With just over four months until the torch sets off from Land's End, organisers have said they need "all the help Cornwall can offer".
The torch will be carried through 20 towns and villages across Cornwall.
Malcolm Bell from Visit Cornwall said there would be a "variety of roles" for people to fill to help ensure onlookers "enjoy the day".
Mr Bell said: "The main thing we're actually looking for is for people to help out during the day in their own communities.
"It's going to be a tremendous day on the 19th May and there will be lots of things happening en route.
"If you can imagine the day, the torch will be coming, but you've got people gathering maybe an hour ahead of time, depending on what's going on and people will have to be assisted and provided with information."
'Piece of history'
Jude Hann, assistant leader of Penryn Brownies has offered for the group to help out, as well as "most of the Carrick south division", which could be up to "400 young people".
Ms Hann said: "We wanted to get the girls involved because the majority of them aren't going to see any of the Olympics at all other than what's on the telly.
"This is an opportunity to actually see a real piece of history and be there for it."
Ms Hann said the brownies would be making banners and singing and hoped to have an Olympic lunch party.
The 70-day tour of the UK begins at Land's End in west Cornwall on Saturday 19 May before arriving at London's Olympic Stadium for the opening ceremony on 27 July.
The torch will stop off in Penzance, Helston and Truro, as well as Cornish villages including Bugle and Stenalees, near St Austell and is to be carried through the country so every British citizen is no more than an hour away from it.