Concern over Newquay public toilet deaths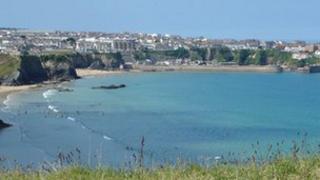 A Cornish town council is trying to find a way to prevent drug addicts from taking fatal overdoses at public toilets in Newquay.
The toilets at East Street in the town have been the scene of three deaths in the past two years - more than any other public conveniences in Cornwall.
But the mayor of Newquay, Andy Hannan, has said there is nothing wrong with the facilities themselves.
The toilets are locked at night and cleaned daily.
Mr Hannan said: "It's very difficult. One of the things that has been investigated is special lighting that makes it difficult for drug users to take drugs in toilets.
"They are closed at night and checked regularly. I think we're doing as much as we can."
Cost to taxpayer
The first two deaths were drug-related but the third, that of a 27-year-old local man in November, is still the subject of an inquest.
Cornwall council currently runs the toilet block, which costs the taxpayer £23,000 a year.
The authority is working with the police and drug rehabilitation agencies to try to prevent further deaths occurring.
Cornwall councillor for Newquay, Geoff Brown, said: "The police are being more proactive patrolling that area. We have to accept that drug users will inject themselves somewhere so it's probably better in a controlled environment so we are putting advice notices in.
"We're also working with the local pharmacy who are also going to give advice."
Plans to cut funding for 114 public toilets in Cornwall were postponed in November.
Cornwall Council had proposed to stop paying for the cleaning and operation of 114 of its 247 toilets to save money over the next four years but many people objected to the plans.
The cabinet approved a recommendation that the issue be put on hold for a year for further consultation.