Horse owners advised to 'increase security' after death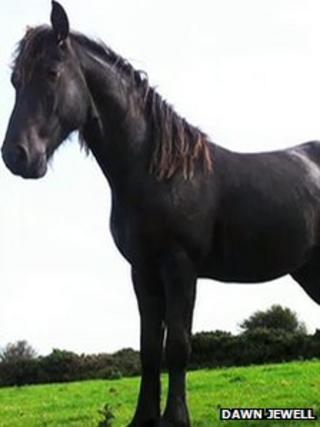 Police say they have been inundated with calls from people concerned about the welfare of their horses.
A horse was found dead in a field in Stithians, Cornwall on Monday with knife injuries to its head and body.
Police have advised owners to be vigilant and use preventative measures, like CCTV and security lights.
A spokeswoman said there was nothing to suggest there would be future attacks and that officers were working to reassure the community.
Pc Sophie Curtis said she was advising people to check CCTV and that security lights were working, to house horses inside at night and avoid sticking to a routine when looking after them.
"We're hoping it's a one-off horrendous incident and at the moment there's nothing to indicate that there will be further attacks," she added.
The horse appeared to have been sedated before the attack between 16:00 GMT on Sunday and midday on Monday.
The horse's owner, Dawn Jewell, had said she was devastated by what had happened to the horse she had raised from a foal.
Ms Curtis said: "Inquires into the incident are ongoing. There are several police officers looking into it and there are a lot of officers reassuring the community."