Serco debates out-of-hours change in Cornwall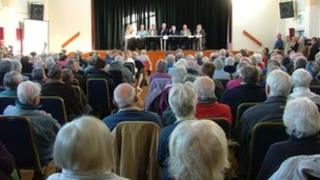 A change in the out-of-hours doctor service for people in Bude is to be discussed by health officials.
Serco, which provides the service, now uses a doctor based in Launceston to cover Bude - which is 22 miles away.
Residents in Bude are concerned that it now takes longer for assistance to arrive because of the switch.
Serco said the issue would be discussed at a meeting with the primary care trust, councillors and MP Dan Rogerson.
More than 300 people attended a public meeting in Bude to protest at the move.
Serco said it had moved the out-of-hours car and doctor because the service was used more frequently in Launceston.
Paula Dolphin, Cornwall councillor for Flexbury and Poughill, said people were angry about the increased time it took doctors to get to some patients' homes.
She said: "I expect the primary care trust and Serco to come up with suggestions about how we can improve the service because we have a big issue."
The trust said it was aware of the concerns.