Badgall and Laneast residents buy snowplough and gritter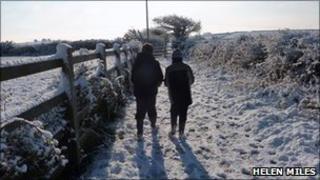 Residents of a Cornish village and hamlet have bought their own snowplough and gritter after previously being cut off for up to a week by snow.
The Badgall and Laneast Action Group (Blag) raised £2,650 to buy the plough and mechanical salt spreader.
Two farmers in the area have been designated to operate them during heavy snowfall.
Blag said residents "voted with their pockets" after being cut off during the last two winters.
'Speed and ferocity'
Paul Stephenson from the group said: "If you're out in the rural areas the main roads are beautifully clear, but our parish is split into a hamlet and village either side of a ridge with a steep hill on one side and open moorland.
"The situation is that there is just not the resources for the Highways to cope with the snow, we just have to wait, and the reality is waiting up to a week before there is clearance of our road.
"But we're not trying to emulate the speed and ferocity of the Highways team."
Mr Stephenson said there was a high number of retired residents living in the area so "we were very keen to mechanise" the removal of snow rather than relying on manpower.