Council reopens landslide coastal footpath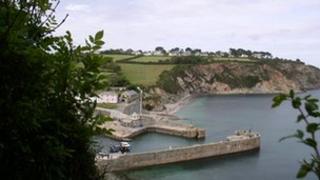 A stretch of coastal footpath in mid Cornwall, which was left impassable by a landslide, has reopened after nearly five years.
Rock and rubble fell 250ft (76m) onto Duporth beach near St Austell when a 5m (about 16ft) section of the cliffside collapsed in March 2007.
The route between Duporth and Charlestown linked two popular Cornish beaches.
The landslip was believed to have been caused by bad weather.
The footpath reopened following work funded by Cornwall Council, the Rural Development Programme for England (RDPE) and the South West Coast Path Association.
Steve Church, from the South West Coast Path Association, said: "This donation of £20,000 is the largest we have made and reflects the importance that our many members place on having a great coast path, close to the sea."
John Oxenham, Cornwall Council member for St Austell Bay, added: "The loss of this small length of coastal path meant a great many people were denied access to this beautiful section of our coastline.
"Once the newly diverted section settles in this path will be a delight to use."