Police 'disappointed' at drink driving test results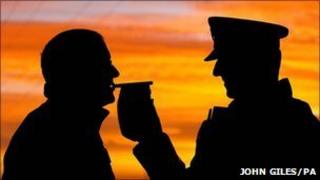 The number of motorists giving positive breath tests rose by 59 in Devon and Cornwall over the Christmas period, police have revealed.
A total of 216 drivers were found to be over the limit compared with 157 in the previous year.
But police have said their drink-drive campaign over Christmas did see a cut in the number of accidents.
Officers said they have been targeting younger motorists who have previously gnored the drink drive message.
Insp Richard Pryce, from Devon and Cornwall Police, said: "Whilst we are pleased to see the drop in the number of collisions on our roads, we are disappointed with the increase in the number of positive breath tests.
"It is clearer now that educational campaigns in drink/drug driving must be directed even more at the younger driver age group - we have to get our message across."
The police said those convicted of drink and drugs driving can expect to be banned for at least 12 months and receive a fine of up to £5,000 and six months in prison.
Collisions resulting in a fatality where the driver is under the influence of alcohol carry a penalty of up to 10 years in prison.
Sgt Phillip Grigg, from Devon and Cornwall police said: "The harm caused through drink and drug driving is preventable.
"Everyone acknowledges the human cost if a crash occurs and the lethal consequences and utter devastation only become truly apparent when you're touched by it personally."