Tyler Fielding, 16, detained for Redruth attempted murder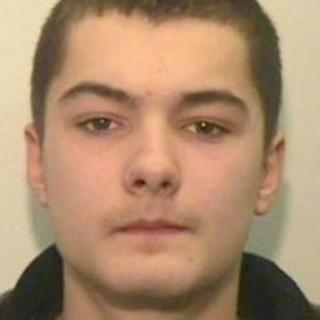 A 16-year-old Cornish boy who stamped and jumped on a man's head in a shop has been detained for 11 years.
Tyler Fielding, of Tolcarne Street, Camborne, who was 15 at the time of the attack in May 2011, was found guilty of attempted murder at a previous hearing.
Fielding had claimed Victor King, 51, had insulted his girlfriend in the shop in Fore Street, Redruth.
The attack left Mr King brain damaged, in a wheelchair and dependent on his wife, Truro Crown Court had heard.
Fielding, who was drunk and high on cannabis at the time of the attack, had attacked Mr King so hard that an imprint of his shoe was left on Mr King's head, the court had been told.
Mr King suffered fractures of the voice box in the attack which would have caused him to choke to death had he not received a tracheotomy.
Judge Christopher Elwen said Mr King's life had been "left in ruins" by the attack.
In a statement after the teenager was convicted last month, Mr King said: "I am disgusted at what has happened to me.
"I did not deserve it. My life will never be the same again."
The court was told that Fielding was "devastated" knowing what he had done to Mr King and had shown positive signs of change since.