St Just church group runs monthly film clubs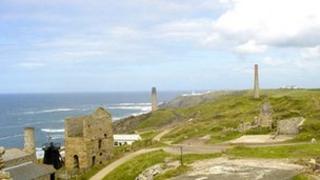 The stars of Hollywood and beyond are now being enjoyed in a cinema club with a difference in Cornwall.
The free film club is based in a church in west Cornwall.
The St Just cinema group has proved so popular, another has opened in neighbouring St Levan.
Films are shown every month and the audience can get their usual cinema "treats" served in the local Methodist church halls.
'No preaching'
Reverend Roger Greene, who organises the club, said: "We started with Mamma Mia and some people were singing along.
"We're not allowed to charge, and we wondered if it would work, but we have had good numbers, so it runs really well.
"We felt that the facilities were there, as well as an opportunity for people to gather together and enjoy the films and ice creams.
"The club is open for church members and friends and unlike every other cinema everybody knows each other.
"The interval can often last for 20 minutes - It's a chance for people to meet together."
Other films that have been shown include the King's Speech and Independence Day, as well as animated films for the youngsters.
"We don't have anything more than a certificate 12 in the church, we thought that was probably right, Reverend Greene said.
"We don't preach at the evenings, we just welcome people.
"We have noticed people from the cinema club have been coming to the Christmas services for example and we hope that children and adults feel comfortable coming into the church."