Cornwall hospitals trust hopes to extend £25m loan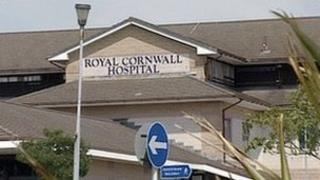 Cornwall health bosses have been discussing how to extend a £25m loan with the Department of Health (DoH).
The DoH loan to the Royal Cornwall Hospitals Trust (RCHT) had been due to be repaid in 2012/13, but both sides have agreed that is not achievable.
An agreement with the Department of Health said refinancing was "critical" to the RCHT achieving foundation status.
It suggests the loan could be extended for 15 years.
Foundation status means local managers have more say in hospital budgets.
Written-off
A trust spokesman said: "Discussions are ongoing about how the loan can be rescheduled and the length and terms of the loan.
"We cannot become a foundation trust until we resolve it."
A DoH spokeswoman said: "We expect the vast majority of trusts to achieve foundation status by 2014.
"However, there are some trusts who in addition to their work locally, will need support to achieve long-term clinical and financial sustainability.
"Those trusts will need to meet all four of the Secretary of State's criteria to qualify for national support.
"Work on this continues and we will announce further details about how we will support those trusts in due course."
Graham Webster, of campaigners Health Initiative Cornwall, said the loan should be written off.
"Ultimately it comes out of patients' money and therefore it must affect patients' services," he said.
"It is an absolute must that we have our own Cornish health authority because if we are taken over I fear for the future of our smaller hospitals."