Golowan Festival organisers' funding fears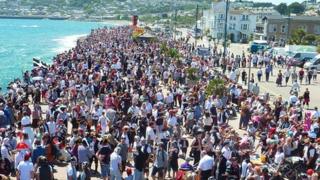 The future of an ancient Celtic festival in Cornwall could depend on help from local businesses.
The Golowan Festival, held in Penzance every June, has grown from a one-day event to celebrate the summer solstice to a nine-day arts festival.
It contributes an estimated £1.5m to the local economy and last year attracted more than 30,000 people.
Organisers are holding a public meeting to discuss funding after Cornwall Council withdrew its contribution.
The highlight of the festival is Mazey Day, when the town is filled with floats, music and dancing, involving school children and local residents.
A survey carried out by VisitCornwall showed more than 50% of holiday-makers visited the area because of the festival.
Last year the festival set a new world record when more than 8,000 "pirates" gathered in Penzance.
Steve Ryman, one of the festival organisers, said in 2010 Cornwall Council contributed £27,000. That was reduced by 50% last year and will be withdrawn completely this year.
"The council's having to make very difficult decisions and there's nothing it could do," he told BBC News.
"But although we're not getting the money, the council's been extremely helpful in lots of other ways, including marketing which we've not been very good at doing ourselves in the past."
Mr Ryman said continued financial support from Penzance Town Council meant he was "hopeful and reasonably confident" the full festival would go ahead this year from 16 to 24 June.
"Realistically however, if we can't find other ways of funding it, the festival may be in danger of shrinking back considerably in the future."
Business leaders, retailers and residents have been invited to the public meeting which is being held at the Acorn Theatre at 18:00 GMT.
"I'm sure the support is there - some of the businesses I've spoken to have been very enthusiastic," he added.
The town's deputy mayor, councillor Phil Peters, said Golowan was the biggest festival of its type in west Cornwall and it was "right and proper" for the town council to provide both moral and financial support.
"There will be a substantial financial contribution from the town council," he said.
Mr Peters and Mr Ryman said whatever the future might hold for Golowan, Mazey Day - described as the festival's "jewel in the crown" - would continue.