Camelford father 'sickened' by arson attack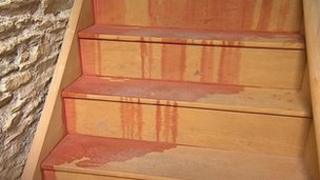 A Cornish man has said his family had a lucky escape after arsonists tried to set fire to his house.
The arsonists entered the house in Fore Street, Camelford and set fire to a plastic pot containing fireplace sealant and poured a liquid around it.
Adam Wallbank said the fire cement and the liquid - a cement additive - were non-flammable.
He described the arsonists as "absolute morons" and said he had been let with a "sickening feeling".
The 46-year-old's partner woke up to find the fire out and the melted plastic pot on the stairs.
'Totally non-flammable'
Builder Mr Wallbank and his partner, along with their seven-year-old daughter, had been asleep upstairs when the attack happened.
He said: "My partner walked down the stairs and let out a scream.
"I came down and saw a liquid had been poured all over the stairs with a pot of fire cement in the middle.
"They had tried to use the fire cement as a wick, but fortunately it's totally non-flammable."
The only damage was caused by the cement additive on the wooden staircase.
The property's front door, which had been unlocked, was left ajar.
Mr Wallbank said: "It's just a sickening feeling that someone has got that sort of intent.
"Luckily for us they were absolute morons, or just crazy."
Officers are appealing for any witnesses to the incident early on Wednesday to come forward.
Det Con Grant Mills said: "This appears to have been a deliberate attempt to start a fire at this property.
"Thankfully, the fire did not take hold or the consequences could have been much more serious for those involved."