Cliff collapse at Porthleven beach prompts safety warning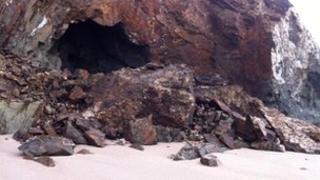 A cliff has collapsed, sending hundreds of tonnes of rocks falling on to a beach in west Cornwall.
Cornwall Council surveyors have told people in the area to "take extra care" after the landslide at Porthleven.
It said the area was prone to land slippage and that people should not go too near to the cliff edge.
Paul Allen, representing the landowner, said he was concerned a landslide could happen again.
Mr Allen said: "We've got a small field that we don't use and we've had a rock fall there that is encroaching on the beach now and there are concerns there will be another fall.
Dog walkers
"We are trying to make the public who walk across the beach in Porthleven aware of the dangers."
Independent councillor for Porthleven Andrew Wallis said: "Obviously our main concern is public safety as there are two or three access points to this beach."
Mr Wallis said "storms, sea level rise, ground water and a lot of easterly winds" at Porthleven lately had all contributed to the landslide.
"This beach is used by lots of dog walkers and visitors alike and we just want the public to be aware."