Trevose Head and Tater Du fog horns switched off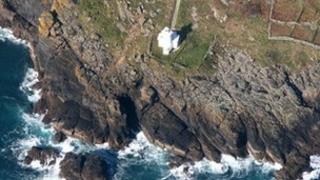 Official general lighthouse authority Trinity House has confirmed two fog horns in Cornwall are to be turned off in May.
After a consultation last year the decision was made to switch off Trevose Head and Tater Du near Porthcurnow.
The authority said the fog horns were now only needed as a hazard warning rather than for navigation.
Trinity House Captain Roger Barker said a study of traffic patterns showed the fog horns were "no longer required".
Mr Barker said it visited both Trevose and Tater Du and closely assessed both commercial fishing and leisure yachts to see whether the foghorns were appropriate.
'Sleep peacefully'
Newquay fisherman Phil Trebilcock said: "I don't think it's a good idea, especially for the visiting boats.
"We have had a couple go ashore over the years in foggy conditions and surely it must be a big asset for them."
West Cornwall fisherman, Taffy Matthews, said: "Anybody on the shore who is living close to it will be delighted to sleep peacefully at night, instead of having that rattling in their earhole."
Julie Hosking, who lives about half a mile away from Tater Du, said: "We walk past it from here to Lamorna Cove and we watch it, see it, hear it when it's foggy and it's just part of living so close to the coast."
Trinity House has now started a consultation into the future of two more fog horns, Lundy South and Point Lynas at Anglesey.