Ban preventing netting of fish off St Ives is lifted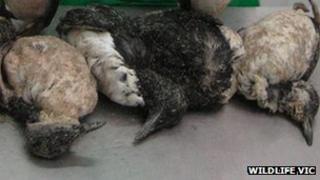 A ban has been lifted on netting fish in part of Cornwall which was imposed after 100 sea birds were found drowned.
The Cornwall Inshore Fisheries and Conservation Authority (CIFCA) activated a by-law preventing the netting of fish around St Ives Bay.
Fishermen were excluded from the area from 5-26 January.
Chief Officer Edwin Derriman said: "It has been opened. It's done what it needed to do and that's separate the nets from the birds."
He said: "There are no issues at all and the vessels are working as normal."
Training sessions
CIFCA said it was thought that onshore winds and a rise in fish numbers had caused more birds to be in the area.
After the ban was imposed the RSPB reported that about 200 seabirds had drowned after becoming trapped in a fishing net off Clodgy Point, away from the exclusion zone.
Mr Derriman said: "We had a bit of a hiccup when fishermen went to an area where traditionally birds never appear, and they did have one day where birds were caught, but [the fishermen] shifted immediately and moved.
"The RSPB has offered to give them some training to get birds out of nets and the fishermen have said absolutely, and then we'll be very happy."
The suspension enforced by the St Ives Bay Gill Net Fishery By-law is thought to be the only one of its kind in the country.