Prince Harry joins Smugglers' Den Inn pub quiz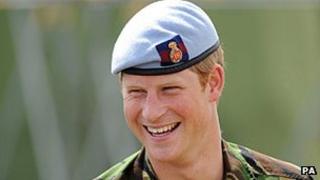 Locals taking part in a pub quiz near Newquay were "shocked and delighted" to be joined by Prince Harry.
The prince made his impromptu visit to the Smugglers' Den Inn at Cubert - which is a few miles away from RAF St Mawgan - last week.
It is thought the prince, who is training to be a helicopter pilot, may have been on exercise at the base.
Landlord Simon Hancock said Prince Harry had eaten in the pub earlier in the week.
The 27-year-old prince, who is third in line to the throne, was with a group who asked for a "nice quiet table for five" at the end of the pub.
'Feel welcome'
"When my waitress came back after taking their order she said one of the chaps looked exactly like Prince Harry," Mr Hancock told BBC News.
"I said 'yeah, yeah, I'm sure it is', but when I went to take some logs over for the fire, I realised she was absolutely right.
"They asked about the quiz after spotting one of the posters... and sure enough they came back on Thursday to take part. I told staff not to stare or intrude, but to make sure the prince and his friends were made to feel welcome."
Mr Hancock refused to be drawn on how Prince Harry and his colleagues fared in the quiz.
"I think discretion is the better part of valour, so all I'll say is that everyone was very impressed with the prince - he had such a natural air about him - and I'm just so chuffed he chose the Smugglers'," he said.