Falklands job swap for Cornwall Council solicitor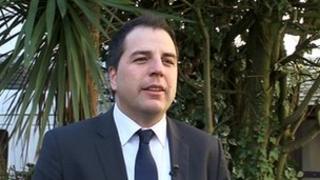 A senior solicitor from Cornwall Council is swapping jobs with his counterpart in the Falkland Islands.
Mark Andrews will spend six weeks working in Stanley as part of the government's legal team.
His post at County Hall in Truro will be covered by Rosalind Cheek, principal counsel for the Falkland Islands Government.
Mr Andrews, who will fly to the Falklands on 1 February, said he was looking forward to the challenge.
"My father actually fought in the Falklands war in 1982," he told BBC News.
"Obviously it was a lot different 30 years ago, but there is that link and that's another reason I'm so excited to have this chance."
The work experience exchange request was made to Cornwall Council by the Falkland Islands last year.
Kevin Lavery, Cornwall Council's chief executive, said: "Ros is a key member of the Falkland Islands government staff and her boss wanted to give her the opportunity to work in a high performing local authority."
Mr Andrews was chosen after a "robust recruitment process" from within the legal services department, but his family link to the islands was not known.
"After he was selected we discovered that his father had served in the Army during the Falklands conflict and were delighted he would be visiting the islands," Mr Lavery said.
'Unique place'
Mr Andrews will fly from RAF Brize Norton in Oxfordshire and the 18-hour flight will include a refuelling stop in the Ascension Islands.
The Falkland Islands, which are in the South Atlantic, have a population of 3,140 and the main industries include fishing, tourism and sheep farming.
"This was an opportunity I had to go for... I am extremely grateful for the chance to work and experience life in such an amazing and unique place," Mr Andrews said.
Ms Cheek will begin her placement on 6 February.
"I am really looking forward to the experience which has been offered to me at Cornwall Council and I am very grateful to those involved for providing that opportunity," she said.
In November it was announced that the Duke of Cambridge would spend six weeks in the Falklands in February and March as part of his RAF training as a search and rescue co-pilot.