Cornwall vicar urges support for homeless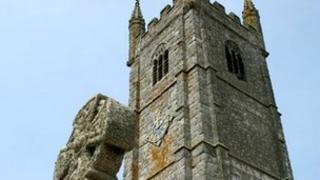 A Cornwall vicar who opened up his church as a night refuge says Newquay needs an outreach worker to help homeless people.
Chris McQuillen-Wright opened the doors of St Columb Minor Church following the deaths of six rough sleepers on nearby Newquay's streets in 2011.
Twenty one people have used the shelter since it opened in November.
Mr McQuillen-Wright said the resort needed to help those with drug, alcohol and mental health issues.
He said: "They are the people who do not knock on our door.
"We need to be getting out there assessing their needs and getting them on the next step.
"If we had a professional worker in place we could break the long-term cycle for many people.
"Just having a building open is not going to help."
Mr McQuillen-Wright, vice-chairman of homelessness charity the St Petroc's Society, said the church shelter "shows how desperate some people are".
He said there were about 120 people rough sleeping in Cornwall and the number was increasing.
"It is not the most comfortable places to come, but no-one will die of hypothermia.
"It's not ideal by any means, but we can provide four or five days for a foundation where they can get an interview for something more permanent such as hostel accommodation."