Kernow HIV support charity gets £250,000 lottery cash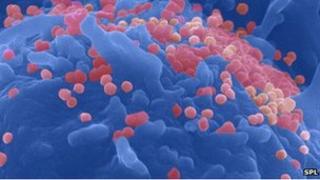 A Cornish charity which works with people who have contracted HIV has been awarded nearly £250,000 of lottery money.
Kernow Positive Support (KPS) said it would use the funds to work with people affected by HIV and help them cope with the condition.
The charity said it would also continue to combat what it called the stigma surrounding HIV.
Money will also be used to work with children who have contracted the virus.
Anthony Basnett, manager of the charity, said the funding "enables us to provide summer camps for children affected in this way."
KPS already runs a respite centre at Alturnun on Bodmin Moor where job finding courses will also be set up.
Mr Basnett said the centre offered the chance for people to "recover from stressful situations such as family break-up, unemployment, debt and disclosure of HIV status."
KPS was set up to develop HIV support services within Cornwall after the closure of the Cornwall AIDS Council.