Mental Health phone in: Dementia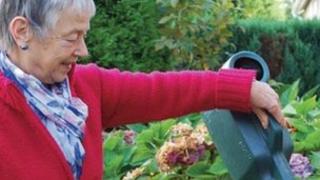 Health authorities estimate there are around 8,000 people in Cornwall with dementia.
It is widely believed to be a condition that affects elderly people, but there are now more people in their 50s developing early onset variations of the condition.
Dementia is a gradual loss of mental ability, resulting in loss of memory, changes in personality, and loss of social ability.
It is caused by conditions that damage thinking, memory, reasoning and language.
On Wednesday 1 February, Laurence Reed presented a phone in about dementia.
His guests were Dr Giles Richards, Consultant Psychiatrist and Allison O'Kelly, Community Psychiatric Nurse.
If you missed the programme you can hear it again on the BBC iplayer for seven days.
Types of dementia
Alzheimer's disease - where small clumps of protein, known as plaques, begin to develop around brain cells. This disrupts the normal workings of the brain.
Vascular dementia - where problems with blood circulation result in parts of the brain not receiving enough blood and oxygen.
Dementia with Lewy bodies - where abnormal structures, known as Lewy bodies, develop inside the brain.
Frontotemporal dementia - where the frontal and temporal lobes (two parts of the brain) begin to shrink. Unlike other types of dementia, frontotemporal dementia usually develops in people who are under 65. It is much rarer than other types of dementia.
Dementia is a progressive condition, but with an early diagnosis - and the right support - people can have a good quality of life for many years.
If you are worried about your memory, you can visit your GP.
If you are worried about asking your GP for a referral, you can contact the Cornwall Partnership NHS Foundation Trust directly who will discuss with you how best to meet your needs.
Patients may benefit from a specialist memory assessment. An assessment can take place at a Memory Clinic or in your own home.
The assessment process usually involves a specialist clinician who will take the details of symptoms.
They will also need some background information about you. They would also help arrange any other investigations such as blood tests, ECGs and brain scans if required.
Once all this information is gathered, a further appointment would be made to discuss the results.
If a diagnosis of dementia is made, a wide range of information and support is available.
This includes details about your diagnosis, plus information on locally-available support.
Although there is not a cure for dementia, there are medications and other interventions which may improve some of the symptoms and people's quality of life.
Memory clinics
People with memory problems can now get help from the memory service which has been set up across Cornwall:
North Kerrier
Trengweath, Penryn Street, Redruth, TR15 2SP Tel: 01209 881888
South Kerrier
Helston Health Centre, Trengrouse Way, Helston, TR13 8AX Tel: 01326 435860
North Penwith
First Floor, Trengweath, Penryn Street, Redruth, TR15 2SP Tel: 01209 888260
South Penwith
Bolitho House, Laregan Hill, Penzance, TR18 4NY Tel: 01736 575555
South Restormel
Alexandra House, 52 Alexandra Road, St Austell, PL25 4QN Tel: 01726 291212
North Restormel
Newquay Hospital, St Thomas Road, Newquay, TR7 1RQ Tel: 01726 291212
South Carrick
Falmouth Hospital, Trescobeas Road, Falmouth, TR11 2JA Tel: 01326 434708
North Carrick
57 Pydar Street, Truro, TR1 2SS Tel: 01872 356000
Threemilestone Primary Care Centre
Pengelly Way, Threemilestone Truro, TR3 6DP Tel: 01872 354492
North Cornwall
Banham House, Bodmin Hospital, Bodmin, PL31 2QT Tel: 01208 251446
East & West Caradon
Trevillis House, Lodge Hill, Liskeard, PL14 4EN Tel: 01579 335226