Oil leaks into Falmouth river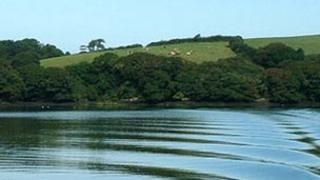 A clean-up operation has started after up to 90 gallons of oil leaked into a Cornish river.
The oil came from a ship which is moored north of the King Harry Ferry on the river Fal.
The slick was discovered when thick black oil was spotted on the ferry slipway.
The Harbour Authority, MCA, Natural England and the Environment Agency are involved in the clean-up. There are no reports yet of wildlife being affected.
Mark Killingback, harbour master for Truro and Penryn, said: "Any substance entering the environment is a pollutant. This is a fuel oil, a very light grade.
"Quite quickly we had some material delivered to the Feock side of the ferry. We were able to boom, contain and mop up as much oil as we could physically."
Mr Killingback said the different organisations involved in the clean-up would continue to monitor the area.