Bridge icicles close roads in Cornwall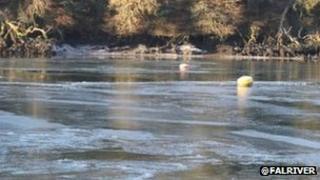 Roads in Cornwall have been closed because of icicles on bridges after temperatures dipped to -9C (16F).
The A30 Hayle bypass was closed in both directions due to icicles hanging off the bridge between the Loggans Moor roundabout and St Erth roundabout.
Treliever Road in Penryn was also closed because of icicles on a railway bridge on the road between Station Road and Packsaddle, highways bosses said.
Sections of the River Fal were also frozen as a result of the cold weather.
Ice was found in areas of still water on upper sections of the Fal on Friday morning.
Small pieces broke off, causing floes which floated down river with the out-going tide, the King Harry Ferry Company said.
Temperatures will be -2C (28F) in parts of Cornwall on Friday night, forecasters said.