Ruby Wax headlines Cornwall mental health conference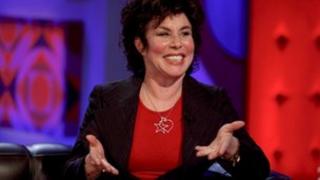 Comedian Ruby Wax is to take part in an international conference about mental health in Cornwall later.
The event will focus on the links between work and mental health and wellbeing.
The American comedian has often spoken in public about her severe depression and recently launched an online social network for people with depression.
More than 200 people are expected to attend, including representatives from France, Poland and Sweden.
Wax said: "At some point in our lives one in four of us will be affected by mental illness. Bring three friends."
Andrea Gilbert, who leads Cornwall Works 50+, one of the organisers, said: "This conference is for people with mental health and wellbeing issues who would like to learn from our partners locally but also nationally and internationally."
Carleen Kelemen, director of the Convergence Partnership Office for Cornwall and the Isles of Scilly, said: "To have Ruby Wax as a speaker at this conference is a great way to underline that mental health issues could happen to anyone as well as the often vital links between work and mental well being."
The event, called 1 in 4, will be held at St Mellion International Hotel in south east Cornwall.