Camel Valley Vineyard in protected status bid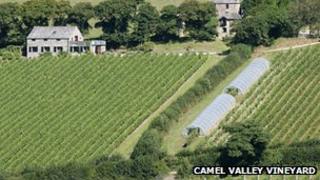 A Cornish vineyard is trying to protect the status of one of its wines.
Camel Valley Vineyard at Nanstallon, near Bodmin, is applying for Protected Designation of Origin (PDO) recognition for its Darnibole wine.
If successful, the PDO will apply to the white wine which is made from Bacchus grapes grown in a 3.5-acre section of the 24-acre vineyard.
Cornish clotted cream and Cornish pasties already have another protection under European Union law.
PDO status can be given to an agricultural product or a foodstuff which is unique to a particular geographic area. Once granted, no other food can use the name of that registered product.
'Special ground'
Camel Valley, started by Bob and Annie Lindo in 1989, has won a number of international awards.
"All previous vintages of Darnibole Bacchus have won a gold medal and critical acclaim, so there is something that we consider to be special about that small area," Mr Lindo said.
"What we are trying to say is that we have a bit of special ground here."
He believes it is the slate subsoil on a steep south-facing slope that gives the Bacchus grape its "delicate and restrained" aroma.
Mr Lindo's son Sam has been named by the UK Vineyard Association as winemaker of the year three times.
Grapes for the Darnibole are all picked by hand and the wine is produced on site.
PDO is the EU-wide equivalent to the French Appellation d'origine controlee (AOC) - part of the French Ministry of Agriculture and Fisheries - which has been used by French vineyards for generations.
It is based on the concept of "terroir", that the combination of several factors, including soil, climate, grape variety and environment, will combine to give a wine a distinctive character that is marketable to buyers.