Cornwall hospitals' A&E departments 'under pressure'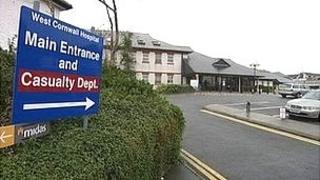 A hospital consultant in Cornwall has hit out at people turning up for non-emergency treatment as A&E staff are put "under pressure".
Royal Cornwall Hospital (RCHT) and West Cornwall Hospital said there had been a "marked increase" in patients arriving with minor injuries and ailments.
Examples included sore throats and mild gastroenteritis.
RCHT Emergency Department's lead consultant Dr Andrew Virr said these people "should have gone to their GP".
A spokesperson said: "Weekend attendances are up by around 10% on what they were a couple of weeks ago. Last weekend there were 424 attendances and almost 1,300 for the whole week."
Mr Virr said: "Our role here is to treat those with immediate and potentially life-threatening illness and injury.
"Those with less urgent needs will find they'll get seen more quickly if they see their GP, get advice from a pharmacist or make use of the excellent network of minor injury units around the county."
He said that if everyone used their NHS services "sensibly" teams could concentrate on those "most in need of their specialist skills".