Cornish MP hopes husband's death highlights sea safety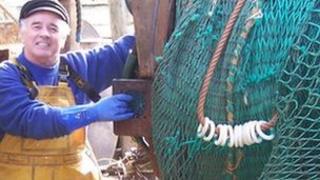 A Cornish MP has said she hopes the death of her husband at sea has highlighted the need to improve safety for fishermen working on their own.
The body of Neil Murray, 57, was found on his 33ft (10m) vessel, Our Boy Andrew, on 25 March 2011, about 25 miles (40km) south of Fowey.
An inquest jury returned a verdict of accidental death, in Liskeard.
South East Cornwall Conservative MP Sheryll Murray said the ruling brought some closure to her personal tragedy.
The inquest heard a Marine Accident Investigation Branch report describing how a toggle on Mr Murray's storm hood got tangled in a fishing.
It pulled him onto a hydraulic drum which hauls the net and he died as a result of a crushed rib cage and other injuries.
His right forearm was also severed.
The jury of four men and four women returned a unanimous verdict of accidental death.