Cornwall student bursary scheme is approved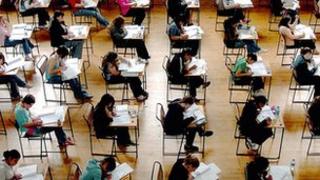 A £1.4m bursary scheme to support students studying at sixth form and further education colleges in Cornwall has been approved.
Cornwall Council approved the scheme which will allocate £700k to post-16 students each year for two years.
The first students to benefit will be those studying from September 2012.
Jon Vinson, president of Cornwall College students' union said the scheme would go "some way towards helping students stay in education".
The council said there were about 8,700 young people who were studying for post-16 qualifications in the county.
Cornwall councillor Neil Burden said: "The combination of low wages and high transport costs means that young people in Cornwall have been particularly badly affected by the abolition of the Education Maintenance Allowance (EMA )."
The EMA provided students from lower-income families, with incomes under about £30,000, with weekly payments of up to £30 a week.
This was abolished in September 2011 and replaced by the government's £180m bursary fund which provides support only to those young people who are in care, leaving care or on income support.
The Cornwall bursary scheme will run alongside the national bursary fund.
Mr Burden said: "While there is support available for families on very low incomes, the national scheme does not provide funding for the squeezed middle.
"We were concerned that these financial pressures could see some of these youngsters prevented from staying on to obtain vital qualifications and I am delighted that the Council has taken action to set up the bursary scheme to support these families".