Truro rough sleeper numbers on the rise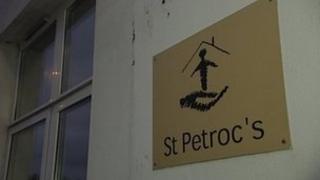 The number of rough sleepers in and around Truro so far in 2012 is more than double the figure for the same period last year, a charity has said.
Figures from St Petroc's show it helped 91 people in the first six weeks of the year, an increase from 36 in 2011.
A spokesperson from the charity said the economic climate had led to an increase in the number of people on the streets during the winter months.
St Petroc's currently operates six supported housing projects in Cornwall.
Steve Ellis, project worker at St Petroc's, said: "We're incredibly concerned. We're starting to see a number of people who are becoming homeless purely for economic reasons and nothing else."
The charity announced in December that its services would be accessible 24 hours a day during the winter.
One of those the charity has helped is Neil, 45, who said: "If you're out in weather like this it's quite easy to get pneumonia, and if you're not eating then your systems not up to it."
Another person who uses St Petroc's facilities, 41-year-old Rob, said: "I was a serious binge drinker. I was living back with my mum after my marriage fell apart. There was only so much she could put up with, that's why I am here today."
One policy which is about to be introduced in Cornwall is called No Second Night Out. The scheme was piloted in London in April 2011.
It identifies new rough sleepers and helps them off the streets so that they do not fall into a rough sleeping lifestyle.
Mr Ellis said: "It's a policy that works effectively in other parts of the UK. We're having to tinker with it though.
"In a city you're working in a relatively small logistical space. In Cornwall you might have somebody in Penzance and somebody in Saltash so it's not been as easy to put together. But Cornwall Council is very keen to get this project running soon."