Cornish horse centre treats record numbers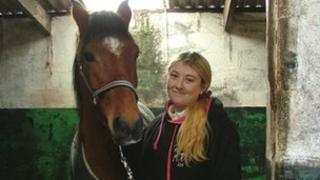 An animal rescue centre in North Cornwall is looking after a record number of horses and ponies this winter.
Horse Haven Rescue at Marshgate has 24 of the animals in its stables.
Some of the horses had owners who could not afford the extra feed and vet bills in the cold weather.
Abi Mortimore, who launched the haven in 2008, appealed for volunteers and donations to avoid her having to turn away horses in the future.
Miss Mortimore said: "I have had horses all my life. This has been one of the worst winters I have ever seen.
"Our numbers have increased dramatically. We have been inundated with calls to take horses in because owners can't cope."
She said it can cost about £1,000 a month to run the haven.
Miss Mortimore said: "We have got a substantial £3,000 vet bill because we have had so many horses come in with injuries that have needed treatment."
The haven called for more volunteers, donations and help with food and equine equipment.