Asbestos in Scorrier mineshaft uncovered by horse owner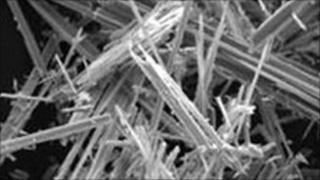 A large quantity of asbestos waste dug up from an old mineshaft is being investigated by the Environment Agency and the Health and Safety Executive.
The waste was excavated during an operation to recover the body of a horse in a field near Redruth.
The animal died when the mineshaft beneath its feet in Scorrier collapsed two weeks ago.
The owner of the horse said it looked as if the asbestos had been thrown down the shaft many years ago.
David Rashleigh, the horse's owner said: "I hired a digger to get the horse out. I was moving nothing but asbestos. I would say there was about ten tonnes of it.
"The bulk of it was corrugated asbestos but there was also white sheet asbestos. I was led to believe that was the most dangerous one."
Mr Rashleigh said he contacted the authorities when he made the discovery.
A spokesperson for the Health and Safety Executive said asbestos waste was supposed to be wrapped in special bags and disposed of only at a licensed site.
The Environment Agency is currently investigating the incident and trying to find out who was responsible for dumping it down the mineshaft.