Lack of basic essentials concerns Ecologic charity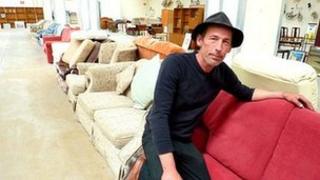 Many families in Cornwall are living without basic essentials, such as beds and furniture, according to a Cornish charity.
Volunteers at Ecologic in Pool are seeing more people asking for help because of the economic situation.
The charity said many families cannot afford beds or even basic furniture.
Some children were forced to "sleep under coats" said Ecologic which provides such items in return for voluntary work.
One volunteer called JayCee said: "There's a lot of people down here on benefits and going through problems of their own.
"Sometimes you have got children with no beds whatsoever, sleeping on whatever they can get their hands on."
The Ecologic centre collects hundreds of unwanted items and then gives them away, in exchange for voluntary hours.
Work is either carried out at the local centre where volunteers recycle old furniture or get involved in activities such as painting town benches.
Andrea Gilbert, from Inclusion Cornwall, which challenges problems relating to poverty and social exclusion, said: "We do have issues because this is a rural area.
"Helping people get back to work, transport is cited as a barrier, but we can overcome barriers if we work together."