Lostwithiel flood victims welcome new storm tank plan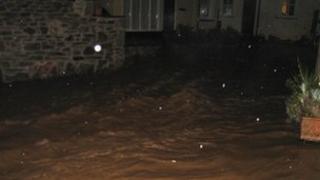 Residents of a mid-Cornwall town are hoping a new £2.8m storm tank will reduce the risk of flooding.
It is being built on farmland near the pumping station at Coulson Park in Lostwithiel, and should be operating by the end of the year.
The tank has been designed to store water from the pumping station during times of heavy rainfall.
Lostwithiel was badly affected by the November 2010 floods, which also hit St Blazey, St Austell and Mevagissey.
The flooding caused millions of pounds worth of damage in the towns and villages affected.
About 230 homes and 400 businesses suffered flooding on 17 November 2010, with water reaching up to 6ft (2m) deep in places.
At the time Barry Green, a Lostwithiel baker, said: "One minute it was just lapping at the front door with no problem and I was just lifting a few boxes then I opened the front door and it just came pouring through. The speed of it was very surprising."
Another Lostwithiel resident, Derek Baynton, told BBC News: "When I looked out of my window I feared a Boscastle-type situation."
Residents in the town have welcomed the new storm tank.
Reubin Pike, from Lostwithiel, said: "I think it's marvellous. It's a contingency plan that will take care of these freaks of nature."
Joe Askew who runs an antique business in the town, said: "When the river's high or the drains are taking a hiding with the rain, the man hole covers will pop up and spill out all over the street. If the tank prevents any kind of flooding it's a good thing."
Les Metcalfe, from South West Water, said: "This is a six-fold increase in the storage capacity we have within the local network. It will be just short of 1200 cubic metres with this new tank."