ShelterBox arrives in cyclone-hit Madagascar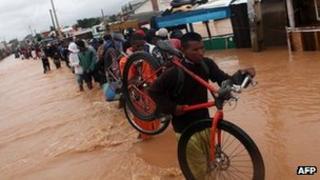 A response team from Cornish-based charity ShelterBox has arrived in Madagascar after a tropical cyclone hit the island.
At least 10 people have been killed by Cyclone Giovanna, officials in the country have said. The team has been sent to assess the damage caused.
The cyclone hit the island on Tuesday, with winds of up to 194km/h (120mph).
It is believed to have affected more than 500 communities, ShelterBox has said.
A charity spokeswoman added: "The team will be linking up with local authorities and other non-governmental organisations.
"They will travel to the affected areas and see if more people from the charity need to be sent to help."