Flood-risk residents confused by tide tables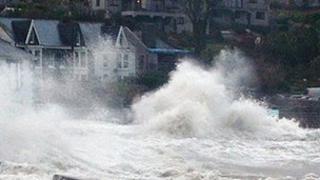 Residents in Cornwall who live in a flood-risk zone are concerned about a new adjustment in tidal predictions.
The change means the relationship between the predicted tidal height and the actual level of water has altered.
Rod Bennett, one of the worried residents, who lives in Truro, said this year's tide tables gave a lower height prediction.
Falmouth Harbour Commissioners said they were confident the new predictions were accurate.
Mr Bennett said other flood risk zone residents could be caught out by the adjustment which started at the beginning of 2012.
Mr Bennett said: "The change itself doesn't matter. As long as people know what the change is and what the tides are this year.
"But some people will look at the tide tables and will think there aren't any high tides and that's not true. They are as high as they ever were, just the numbers are smaller."
Falmouth Harbour Master Mark Sansom said: "On the basis of the fact we have more up-to-date observations, mariners are able to use the predictions with more confidence.
"But they are only predictions and the tidal heights that are achieved will still vary because of the meteorological and pressure effects of the weather."
Tide time tables are provided by the UK's Hydrographic Office.