Grant helps Royal Cornwall Museum launch new exhibition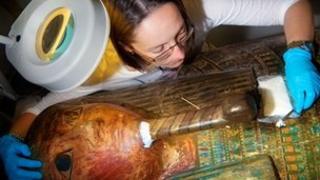 The Royal Cornwall Museum in Truro has been awarded £233,000 from the Heritage Lottery Fund to launch a new ancient world exhibition.
Unwrapping the Past will showcase the museum's mummified remains of Egyptian priest Iset Tayf Nakht.
A statue of Sekmet, the Lion Goddess, which has been loaned from the British Museum, will also go on display.
About 20 volunteers will be recruited to provide tours and sessions at the exhibition starting in June.
Re-interpreting history
It is hoped Unwrapping the Past will give visitors an understanding of life in Ancient Egypt, Greece and Rome as well as mummification and the afterlife.
Lisa Mitchell, head of programmes at the museum, said: "Ancient Egypt, Greece and Rome have fascinated people since the earliest antiquarians brought back tales of ruined cities and pyramids and that fascination still exists today.
"We are working closely with the British Museum to re-interpret the collection for schools, families and general visitors."
Interpretation panels, object displays and family-focused activities will be used with the aim of bringing the past to life.
More than £50,000 has also been granted from The Museums, Libraries and Archives Council and £10,000 from The Foundation for Sports and the Arts for the summer exhibition.