Bryher calls for more volunteer coastguards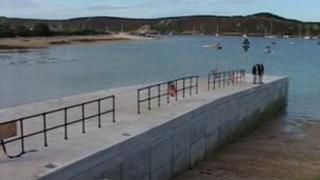 The smallest inhabited island of the Isles of Scilly needs more volunteer coastguards.
Bryher's coastguard team should be four-strong but is currently at half strength, the Maritime and Coastguard Agency (MCA) said.
The MCA's sector manager Mark Thomas said it was difficult to find recruits on an island where people often had two jobs.
Bryher is one of five inhabited islands that make up the Isles of Scilly.
Summer concerns
Previous members of the Bryher team have retired or moved away from the island.
The team was so small that, if their pagers went off, other coastguards on the island of Tresco also attended any maritime incident, the MCA said.
Mr Thomas said: "It is a bit of concern right now because we have the summer season approaching and we want to get the team up to full strength."
New volunteer recruits were expected to attend monthly training sessions and carry a pager to respond to emergencies, Mr Thomas said.
He said: "They will be trained in various different rescue techniques, including searches and water rescue, but we offer comprehensive training.
"The ultimate goal is to get another two people, then we're not looking at bringing resources from other islands across to back up Bryher."