Truro Oxfam reopens after suspected arson attack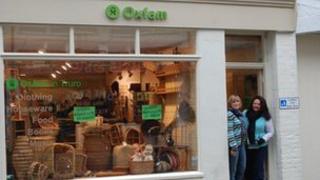 A Truro charity shop which was damaged in a suspected arson attack has reopened.
The city's Oxfam store, and other neighbouring shops in New Bridge Street, were damaged in a fire on 16 December.
Police suspected arson after the fire started when rubbish caught light in an alleyway and spread to the buildings.
Shop manager Rita Bennette said there had been "a lot of hard work" carried out to get the shop reopened.
'Cheerful and full'
About 40 firefighters were called to the scene to deal with "extensive damage" to the store.
Volunteers said the fire could not have happened at a worse time, the weeks before Christmas.
Ms Bennette said: "When I saw the damage I thought, 'it's all gone, it's really sad'."
She added that staff and generous members of the public had helped in getting the shop reopened.
She said: "The main thing is that 90% of the stock we now have has been given to us since the fire.
"It's just amazing. The quality of the stuff is beautiful and the place looks bright, cheerful and full."
Devon and Cornwall Police said no arrests had been made in connection with the fire.