Cornwall deer population increasing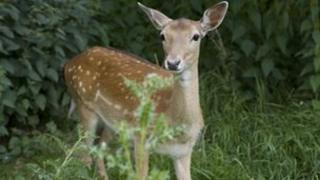 The deer population in Cornwall has risen 10-fold in the past decade, experts have said.
The British Deer Society's South West branch said herds up to 20-strong were now regularly spotted.
The initial rise has been credited to deer having more roaming space since the 2001 Foot and Mouth outbreak led to livestock being killed or kept inside.
A population survey is being carried out and will be published in the summer.
Paul Messenger, the society's regional spokesperson, said: "I'm seeing a greater number and more people come to the society and say they saw one or two deer a few years ago but now they're seeing herds of 10 or 20 at a time."
'Losses to agriculture'
However, a rise in deer numbers could have a detrimental effect.
Just last year the British Trust for Ornithology carried out research into the impact deer had on falling bird populations such as nightingales as it was claimed the animals could reduce the quality of the birds' habitat.
The Tregothnan Estate, near Truro, which grows and sells tea and holly, has also been affected.
The estate is home to about 300 fallow deer and wild deer also roam nearby.
Jonathan Jones, from Tregothnan, said: "There's a lot around, it's anyone's guess, hundreds, if not thousands.
"If they get into a certain area of the tea it's a complete nightmare. But then they will go and focus on the holly and strip them bare."
According to the British Deer Society about 350,000 deer are culled nationally every year.
Mr Messenger added: "If deer are left to their own devices the numbers will continue to increase.
"We'll have more road traffic accidents, great losses to agriculture."