MPs' help sought over Polwhele laboratory's future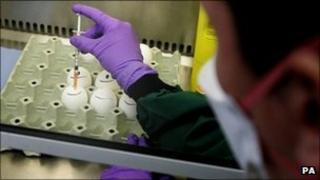 Marine organisations fighting to save jobs and services at a laboratory in Cornwall have written to MPs for help.
The groups fear that plans to move some analysis services to Devon could lead to samples being damaged in transit and delayed test results.
The Animal Health and Veterinary Laboratories Agency (AHVLA), which runs the unit at Polwhele, near Truro, said services would not suffer.
AHVLA managers met campaigners earlier in February to help allay their fears.
But the objectors remain unconvinced and are hoping local MPs will step in and support them.
They have also written to Defra ministers about their concerns.
The laboratory carries out tests for diseases such as foot-and-mouth and bovine tuberculosis.
'Loss of quality'
Some of its work is to be redistributed among other units and up to five jobs are at risk as part of Defra's plans to make £2.4m savings by March next year.
The plan is to keep post-mortem work and veterinary diagnosis at the Cornish laboratory and transfer bacteria and parasite analysis services to Starcross, near Exeter.
Those against the change fear there will be less understanding of the threats to marine mammals.
Vic Simpson, who worked at Polwhele for 20 years, said: "We're concerned about the loss of quality of results during transport and the loss of expertise we have in Cornwall."
Dave Jarvis, from British Divers Marine Life Rescue, said: "We think the marine biologists should stay in Cornwall because we have got 25% of the whole of the UK's marine strandings down here."
A spokesperson for the AHVLA said: "Following a review, we concluded that laboratory testing does not always need to be carried out alongside diagnostic post-mortem examinations, and we plan to stop conducting laboratory services work at eight regional laboratories, including Polwhele.
"However, veterinary diagnostic and post-mortem work will continue to be undertaken from Polwhele."