Low-flying jet blamed for breaking window in Cornwall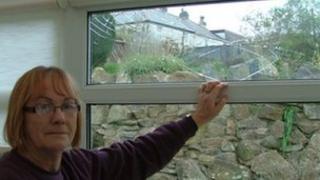 A woman from mid Cornwall has claimed that vibrations from a Royal Navy jet broke a window in her conservatory.
Jenny Osborne from Tremar, near Bodmin, said the aircraft flew "horrendously" low as it passed over the house on Tuesday at about 14.30 GMT.
RNAS Culdrose has confirmed its Hawk jets were in the air around that time on regular war simulation exercises.
The MoD is investigating the claims to identify whether any of its aircraft were responsible.
A spokesperson for RNAS Culdrose said they had "no record of any low-flying aircraft ever causing any structural damage".
Ms Osborne said low-flying jets were a regular occurrence near her home and that she usually enjoyed watching them fly over, but this was not the case in the latest incident.
She said she was in her garden shed but rushed out because she was so alarmed.
"The low flying aircraft that come over do scare you a bit, that doesn't worry me, but this did make me have a few heart palpitations because of the noise from the conservatory," she said.
"This particular jet was very, very low.
"I was flabbergasted, I couldn't believe it."